Are We Ready for GATT?
Abstract
Originally delivered as a privilege speech in the Philippine Senate, the piece highlights the inability of the government to identify the specific gains and losses that the Philippine economy will incur under the new General Agreement on Tariffs and Trade (GATT) treaty. It answers the titular question with a firm negative, arguing that the Philippines is unprepared for such extensive economic liberalization. The country
is heavily dependent on foreign industries in order to sustain its own productive capabilities. The country's local produce cannot compete with cheaper foreign alternatives, which will flood the country should trade restrictions be removed in accordance with the treaty's stipulations. Agriculture will suffer the most from such inundation; the unfair competition from cheaper imports will be a major setback in the country's progress towards self-sufficiency in rice and corn production. Only nontraditional export crops stand to benefit from GATT's injunctions, but this gain is hardly enough to offset the
possible economic losses that the implementation of the agreement could bring about. In conclusion, the paper calls for greater government activism in order for the Philippines to thrive in a liberalized global trading arrangement—the government must do away with the naive assumption that growth automatically results from opening up the economy. The State must directly intervene in the development of local industries, following a deeper inquiry into the repercussions of the country's membership to GATT.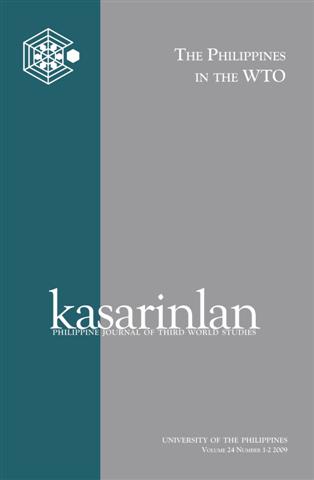 Keywords
GATT · economic liberalization · agriculture · nontraditional export crops · Philippines
By submitting a manuscript, the authors agree that the exclusive rights to reproduce and distribute the article have been given to the Third World Studies Center.