How Do Disasters Shape Food Sovereignty in the Philippines? Exploring the Reciprocal Relationships between Food and Disaster
Christine Gibb

Justin Veuthey
Abstract
Some disaster-food connections are obvious: floodwaters devastate roads, thereby interrupting the flow of food from producers to consumers; typhoon winds prevent fisherfolk from going out in their boats; and international food aid inundates local markets after major disasters. We believe that other food-disaster linkages are subtler, deeper, and perhaps more significant. This paper is a preliminary investigation into the critical roles that natural hazards can play in affecting the food security of a community, region, or state. We argue that, in a part of the world that experiences frequent and intense natural hazards such as thePhilippines (Bankoff 2007), food and disasters are necessarily connected. Moreover, we contend that the food sovereignty concept, with certain caveats, is the most appropriate theoretical frame for analyzing this connection. This paper aims to synthesize relevant literature in the matters discussed above. Our objectives are (1) to contextualize the assertion that food sovereignty is a better concept than food security for dealing with the food-disaster connection, using specific examples in the Philippines; and (2) to demonstrate that two key principles of food sovereignty—emphasis on the local and self-sufficiency—need to be rethought and even temporarily suspended in preparation for, during, and after a disaster. The paper is based primarily on secondary data published in academic and grey literature. Given our linguistic limitations, our assertions and analyses are necessarily biased toward written accounts published in English.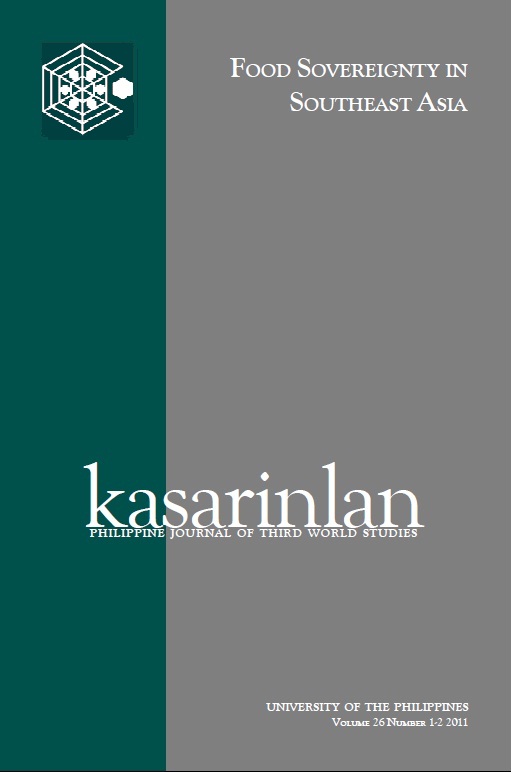 Keywords
Philippines; food security; food sovereignty; disasters; hazards; vulnerability
By submitting a manuscript, the authors agree that the exclusive rights to reproduce and distribute the article have been given to the Third World Studies Center.