Tensions and Developments in Akbayan's Alliance with the Aquino Administration
Hansley A. Juliano

Ateneo de Manila University
Abstract
Akbayan Citizen's Action Party's participation in the Aquino administration is fueling continuing tensions not only between and among its leaders and members but also between the party and its allied social movements. What does this reveal about the nature and dynamics of leftist group participation in Philippine politics? This study is a reappraisal of the contested democracy framework, nuancing it with the Goldstone-Desai framework on social movement consolidation. By reviewing Akbayan's official party documents and archival studies of Philippine social movements, as well as interviewing key informants and engaging in participant observation, I recount how Akbayan's alliance with the Liberal Party (LP), leading to its role as coalition partner of the administration of President Benigno "Noynoy" Aquino III, exhibits the limitations of formalizing coalition networks into a uniform political party. The leadership of the party, in their pursuit of electoral victory and bureaucratic appointments, appears to deviate from the aforementioned intent of their allied social movements to address the sociopolitical issues they carry. The anti-administration stance of Akbayan's labor ally, the Alliance of Progressive Labor (APL), the less-optimistic views of the rural-poor organization Kilusang para sa Repormang Pansakahan at Katarungang Panlipunan (KATARUNGAN, Movement for Agrarian Reform and Social Justice), and the boltingout from Akbayan of their rural sector ally, the Pambansang Kilusan ng mga Samahang Magsasaka (PAKISAMA, National Confederation of Small Farmers' and Fishers' Organizations) are highly illustrative examples. The party leadership, their allied movements, and their members vary in the priority they give to government-based tactics to address such issues. This, in turn, explains the dissonances and tensions between the network of Akbayan, and why other leftist parties continue to pose real challenges to their efforts. These tensions could explain why, despite their constant presence in national politics, Akbayan's capacity to effect change remains challenged in the context of a dynamically evolving status quo of patronage politics in the country to date.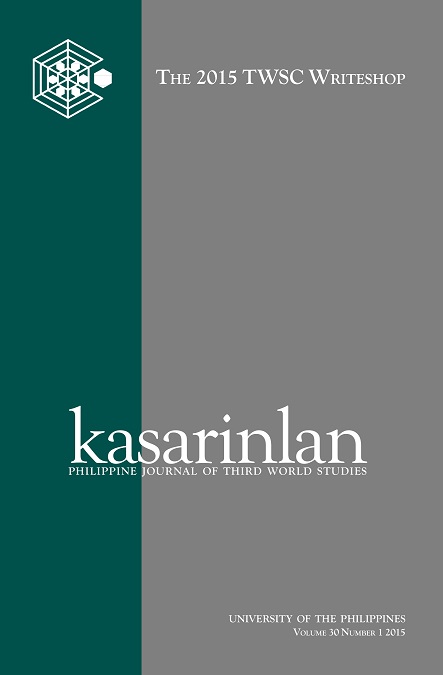 Keywords
Akbayan; contested democracy; National Democratic Front; Philippine Left; alliances; coalitions; Liberal Party; Philippine political parties
By submitting a manuscript, the authors agree that the exclusive rights to reproduce and distribute the article have been given to the Third World Studies Center.