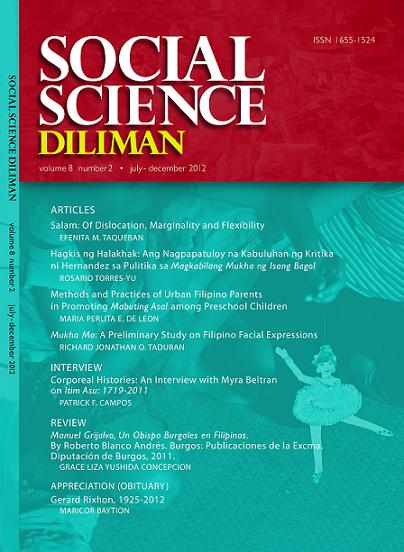 Cover photos by Lawrence Dizon Sumulong. Used with permission.
Front cover photo: While waiting to be called abroad, a young Muslim recruit in Salam Compound, Quezon City plays with her paper cutout doll.
Back cover photo: Waiting in Salam. A young Muslim woman sitting on top one of the unfinished houses in Salam Compound, Quezon City.



Contents of this journal may not be reproduced without the publisher's  written permission except for fair use,i.e., for personal, educational and research purposes, in accordance with copyright law. Reprinting and republication in any other journal or compilation is likewise prohibited except as provided in the Publication  Agreement when  the  author reprints his/her article for inclusion in any publication where he/she is the author or editor, subject to giving proper credit to the original publication of the article in the journal.