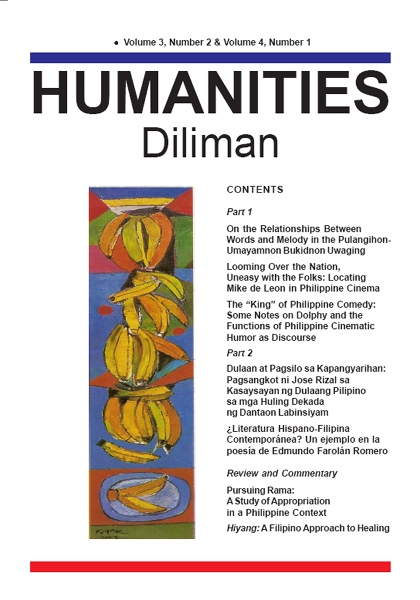 Cover Design: Ang Kiukok
Artwork: Bananas, oil on canvas, 33" x 6 3/8", 2003, by Ang Kiukok
Photo: Sylvia Gascon
Photo: courtesy of Finale Art File

The late National Artist for the Visual Arts Ang Kiukok painted this scroll-like image of bunches of bananas hanging from a triangle. A plate on the bottom appears to catch those that would eventually drop from the cluster. This colorful oil on canvas painting appears whimsical at first glance but it is actually a masterful triumph of Ang over the restriction of a two dimensionial surface that his frame presents. He created a multiple-point perspective by representing the bananas in different angles and offering planes of cadmium red and thalo blue, variations of primary colors that complement the cobalt yellow, orpiment and chrome yellow bananas. The result is a striking depiction of a rather mundane subject.

This painting was one of those on exhibition from 16 Dec. 2003 until 4 Jan. 2004 at the Art Center of SM Megamall, Ortigas. Titled New Works, the exhibition organized by the Finale Art Gallery was to be Ang's last. He died on 9 May 2005.