Current Issue
Issue Number 9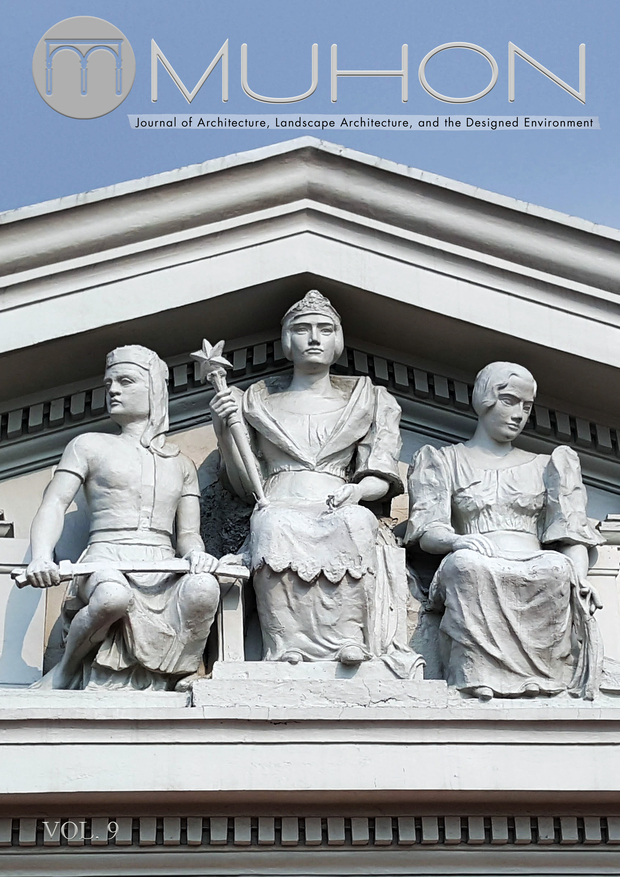 IDEALIZING ARCHITECTURE
The cover for the latest issue of the Muhon Journal features the central sculptural group at the pediment of the
National Museum's Main Building along Burgos Avenue, Manila. The enthroned sculptural trio is the
personification of the Philippine nation, Luzviminda, represented by Luzon at the center, Visayas on the right,
and Mindanao on the left.
Emulating archaic royalty, Luzon wears a diadem and holds a scepter of power, and is accompanied by two
seated consorts, a male Mindanao and female Visayas, on both sides. The male figure is clad in tribal attire and
holds a spear, while the female figure is dressed in a dressed-down, Hispanized baro't saya sans the panuelo and
tapis.
The sculptural trio is an allegory for the Filipino nation, constituted by three diverse and culturally distinct
island clusters. Similarly, the Muhon Journal encourages the diversity and plurality of architectural knowledge
production across the archipelago and we are delighted to present it through this issue—from history and
criticism, green spaces, urbanism, and material experimentation with local materials.
Copyright © 2022
View All Issues